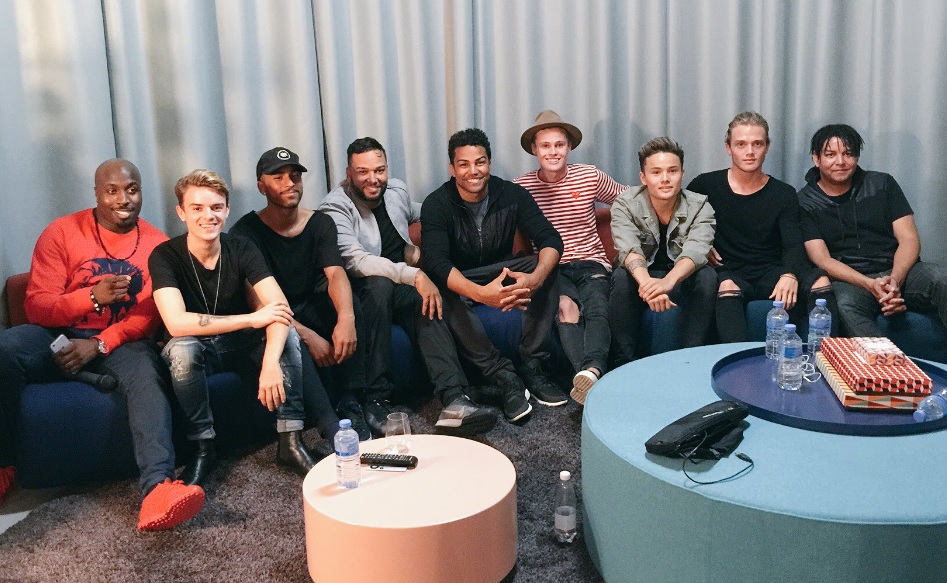 FERNANDO HALMAN LEERT TJ JACKSON NEDERLANDS IN EEN ONTMOETING MET B-BRAVE
De Amerikaanse boyband 3T adviseert de Nederlandse collega's van B-Brave vooral te genieten van alle succes.
"Succes gaat zo snel, geniet van elke seconde", stelt TJ Jackson, een van de leden van 3T. "En geniet van alle steden die je aandoet tijdens optredens." De zanger doet zijn uitspraken in een interview met FunX-dj Fernando Halman op de site Nandoleaks.com.
3T is deze week in Nederland voor een aantal optredens ter gelegenheid van de lancering van het nieuwe album, Chapter III. De groep treedt dinsdagavond op bij de première van de film Bridget Jones's Baby. De drie zoons van Tito Jackson staan vrijdag samen met B-Brave in de Rai in Amsterdam. Zaterdag is een intiemer optreden in de Melkweg.
Halman presenteert de twee concerten op vrijdag en zaterdag.
3T adviseert B-Brave van succes te genieten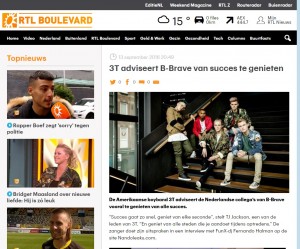 NANDOLEAKS: 3T PERFORMING 'ANYTHING' IN AMSTERDAM 2016
How @thereal3ts suprised me this week? @tjjackson9 @tarylljackson @tajjackson I love these guys !! Truly blessed to have met such great souls!! #love #respect #jacksons #nandoleaks more conversations on www.NandoLeaks.com
NANDOLEAKS: 3T GIVES DUTCH BOY BAND B-BRAVE TIPS ON BEING SUCCESSFUL
Multi-platinum selling group, 3T is bringing a unique concert experience to the Melkweg unlike anything their fans have ever seen before. Taj, Taryll and TJ are excited and ready to share this next chapter of their music careers with their loyal fans and introduce a whole new generation to the magic that is 3T. As part of the legendary music dynasty that includes Michael, Janet, and their father Tito, 3T is carrying on the family legacy through their own music. Come celebrate the launch of 3T's brand new album, Chapter III. Listen to songs off the new album (as well as other 3T classics) performed live, hear the stories behind them and more at this special engagement.
A message from @TheReal3T @3TFansUnited about why You Should be At the show in #amsterdam? https://t.co/Jor3fCPrHL pic.twitter.com/BkTuEwH4uA

— Fernando Halman (@FernandoFunX) 13 september 2016
WHY YOU HAVE TO BE AT THE 3T INTIMATE SHOWCASE IN AMSTERDAM?!!
Hou deze gozer in de gaten @dwdd @RTLLateNight https://t.co/Jor3fCPrHL pic.twitter.com/LPTi84II0N

— Fernando Halman (@FernandoFunX) 15 september 2016
A special @TheReal3T show @tajjackson3 @tarylljackson @tjjackson #amsterdam #saturday #melkweg. @3TFansUnited pic.twitter.com/UC8vzao3We

— Fernando Halman (@FernandoFunX) 14 september 2016
#nandoleaks pic.twitter.com/2ehXrmOmny

— Fernando Halman (@FernandoFunX) 14 september 2016
NANDOLEAKS: 3T GIVES DUTCH BOY BAND B-BRAVE TIPS ON BEING SUCCESSFUL https://t.co/GtRuIBEOmT via @nandoleaks pic.twitter.com/RxHLJx3Xcw

— NandoLeaks (@Nandoleaks) 13 september 2016
3T – Anything
3T – I Need You
B-Brave – One Night Stand ft. Sevn Alias
B-Brave – Bij Mij
B-Brave – Als Je Van Mij Bent
What about new 3T material. When can we expect that to come out?
TJ Jackson:'' It's coming we're working in the studio. We got 7, 8 songs in and we are very excited and we think our fans will enjoy it. We put a lot of time and effort into it uhmm it has to be right it has to be perfect.So we're like mad scientists trying to get it right and perfect''
What kind of sound
TJ Jackson: ''A lot of live organic stuff. We would sometimes play ''Forever Girl'' that's a little snippet of the sound we are going into. Because our fans have been so loyal we just wanted to give them a taste of what is to come''
When asked what they think of aunt Janet's new single?
Taj: ''I love that it has a retro vibe to it, the classic Janet I love that aspect of that''
Do You guys see your Aunt Janet as much as you see your uncle Michael?
Taj: I travelled with her during the Velvet Rope tour and I also watched her perform in Holland
TJ: ''Just say what happened they were both dating dancers'' pointing at Taj and Tarryl
I don't want people thinking that I'am not a great nephew says TJ with a big smile on his face.
Talkin with 3T about Michael Jackson, and losing their mother
I also asked 3T to tell me about their 10 favorite Michael Jackson Songs and the memories they bring back?!!
3T'S TOP 10 MICHAEL JACKSON songs
https://soundcloud.com/funxfm/3t-presents-top-10-michael-jackson
10. P.Y.T. (Pretty Young Thing)
https://soundcloud.com/funxfm/3t-presents-top-tien-michael-jackson-10
9. Smooth Criminal
https://soundcloud.com/funxfm/3t-presents-michael-jackson-top-10-9
8. They Don't Care About Us
https://soundcloud.com/funxfm/3t-presents-michael-jackson-top-10-8
7. Wanna Be Startin' Something
https://soundcloud.com/funxfm/3t-presents-michael-jackson-top-10-7
6. The Way You Make Me Feel
https://soundcloud.com/funxfm/3t-presents-michael-jackson-top-10-6
5. Don't Stop Till You Get Enough
https://soundcloud.com/funxfm/3t-presents-michael-jackson-top-10-5
4. Billie Jean
https://soundcloud.com/funxfm/3t-presents-michael-jackson-top-10-4
3. Human Nature
https://www.youtube.com/watch?v=kql0ld02SS4
https://soundcloud.com/funxfm/3t-presents-michael-jackson-top-10-3
2. Black or White
https://soundcloud.com/funxfm/3t-presents-michael-jackson-top-10-2
1. Man in the Mirror
https://soundcloud.com/funxfm/3t-presents-michael-jackson-top-10-1
https://www.fernandohalman.com/wp-content/uploads/2016/09/3tbbrave.jpg
583
947
Fernando Halman
https://www.fernandohalman.com/wp-content/uploads/2019/02/logo_fernandohalman.png
Fernando Halman
2016-09-19 19:17:33
2016-09-19 19:33:41
FERNANDO HALMAN LEERT TJ JACKSON NEDERLANDS IN EEN ONTMOETING MET B-BRAVE