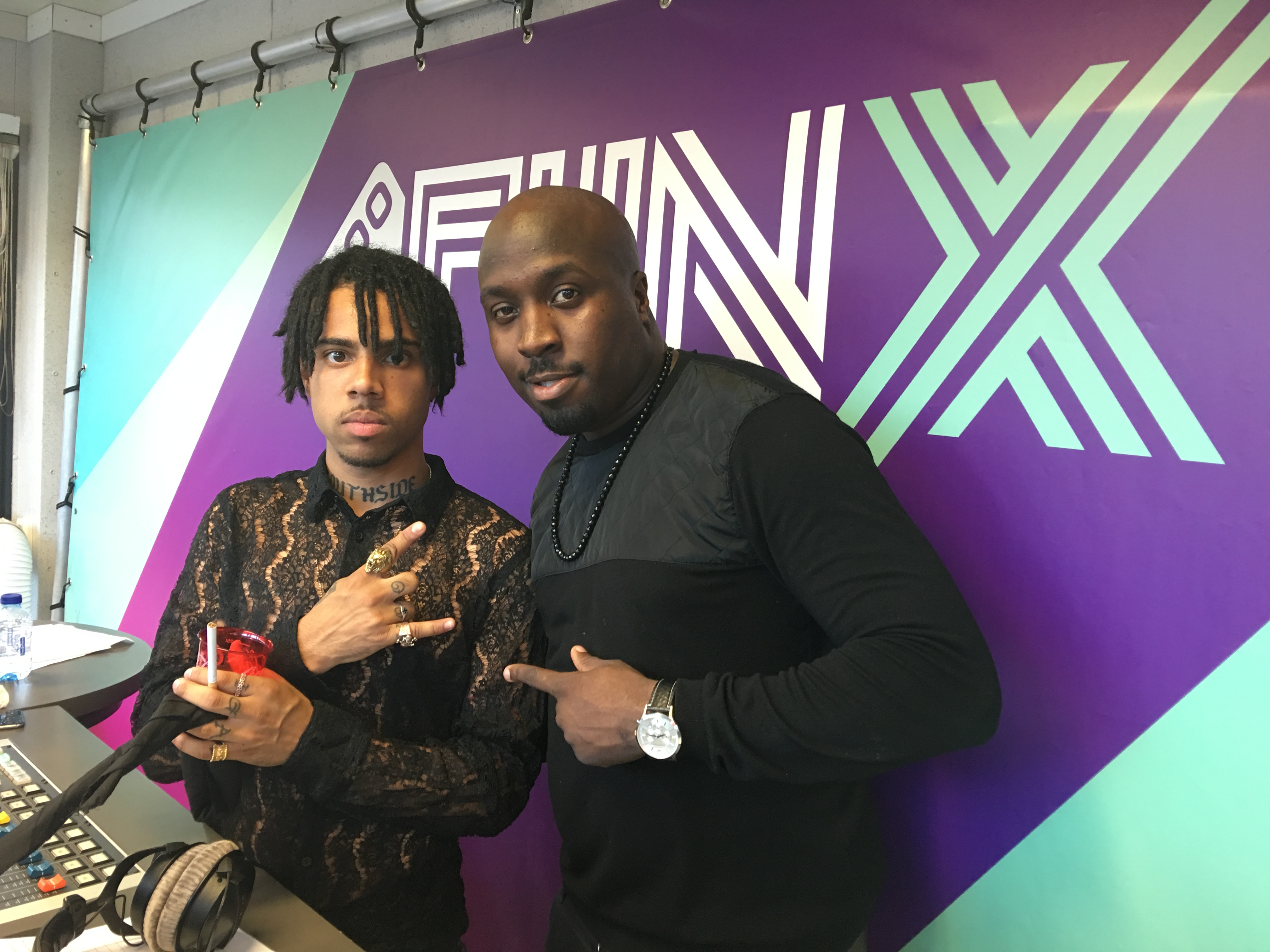 Vic Mensa: " When I was 17 I fell of a bridge and got electrocuted"
Vic Mensa is een van die artiesten die het perfect voor elkaar krijgt om een eigen stempel te drukken op de hiphop die vandaag de dag gemaakt wordt. De rapper uit Chicago heeft al een paar prachtige features op zijn naam staan op onder andere het nieuwe album van Kaytranada, maar met zijn nieuwe album There's Alot Going On laat hij zien dat hij zijn plek in het hiphoplandschap meer dan dik verdient.
Vic Mensa is meer dan zomaar een stereotype rapper die graag ringen draagt en een fles cognac aan zijn mond zet. Als een van de weinige shows is hier ook aandacht besteed aan de aankleding van het podium. De dj-booth is netjes weggewerkt met houten schilderingen van oproerpolitie a la Banksky. Als een hippie in trance komt Mensa op en start zijn eerste track en albumopener 'Dynasty' en in extase draait hij langzaam rond in zijn doorschijnende zwarte bloesje.
Allereerst het feit dat Vic Mensa niet bang is om een statement te maken. Nu begint dat met een boodschap die we al vaker hebben meegekregen van een hiphop-artiest; het welbekende lied opgedragen aan mensen die wel eens zijn aangevallen door de politie. Met '16 Shots' laat hij duidelijk weten dat de politie niet bepaald zijn beste vriend is. Maar er is meer. Het vijfde nummer begint met een korte mededeling. 'Jullie weten wat er is gebeurd in Orlando een tijdje terug. Dit nummer is voor iedereen die beperkt wordt in zijn liefde.' 'Free Love' start met een prachtig akoestisch riffje en wordt uiteindelijk bijgestaan met een doordringende basdreun.
https://www.fernandohalman.com/wp-content/uploads/2016/07/IMG_1298.jpg
3024
4032
Fernando Halman
https://www.fernandohalman.com/wp-content/uploads/2019/02/logo_fernandohalman.png
Fernando Halman
2016-07-04 11:49:12
2016-07-04 11:50:01
Vic Mensa: '' When I was 17 I fell of a bridge and got electrocuted''